Col. ITA ARMY Luca VITALI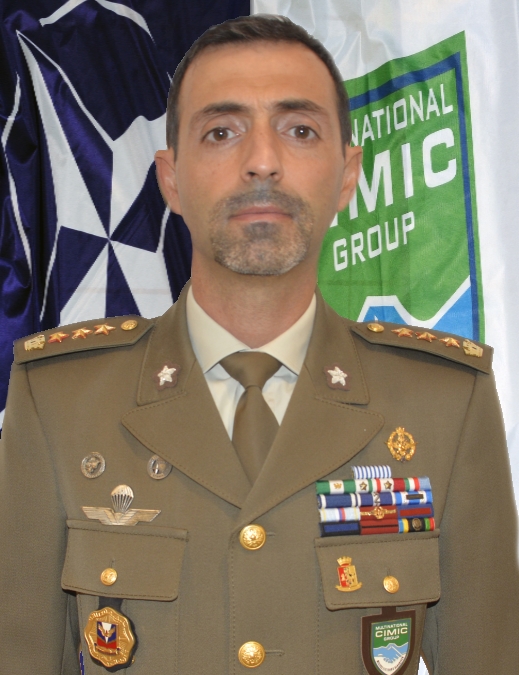 Commander
Colonel Luca VITALI was born in Fermo, Italy on July 7, 1971.
 MILITARY BACKGROUND
He joined the Modena Military Academy in 1991, thereafter, in 1994, as a 2nd Artillery Lieutenant, he attended the Turin Application School (1994-1996) and, in the same year (1996), he completed the studies by graduating in Applied Computer Science at the Turin University.
After being promoted to the rank of 1st Lt., he was posted to Sacile (1996-2001) and assigned to the 5 th Anti-Aircraft Artillery HAWK missiles Regiment as TCO (Airspace Tactical Control Officer) and STO (Survival To Operate). During that period he was deployed in the DINAK Operation (1998- 1999) as TCO.
He was employed, firstly (2000) as Battlefield Coordination Element, at the Balkans Combined Air Operation Centre (NATO "Joint Forge" Operation) and, subsequently (2001), as Staff officer for land operations of the "Task Force FALCO" regiment (within the Joint Guardian operation, Kosovo).
In the period between 2002-2003 he was battery Commander at the 4th Anti-Aircraft artillery regiment in Mantua and, till 2004, in the same location, as staff officer of the Training and Operations Office. Then, as a Captain, he attended the 131 st Staff Course at the School of Applications in Turin (2004-2005) and achieved the Master in Strategic Studies at the Turin University (2005-2006).
In the two following years, Col. VITALI was appointed Head of Operations Section at the Anti- Aircraft artillery Command Brigade in Padua and then (2009-2012) he moved to the Army General Staff, General and Financial Planning Division, Planning Office as Staff Officer. In this period (2009- 2010), within the rank of Major, he attended the 12th Higher Joint Staff Officer Course.
He was deployed to Kosovo in 2012 within the NATO "Joint Enterprise" Operation as Commander of the Multinational Battle Group West Manoeuvre Battalion and, when back to national territory, he commanded the 2nd short-range missile group of the 17th Anti-Aircraft artillery regiment in Sabaudia. In 2013 Col. VITALI was assigned again to the Army General Staff as Chief of International Relation Section within the 3rd General Planning Division (Italian Army General Staff).
In October 12, 2018 he took the command of the MULTINATIONAL CIMIC GROUP (MNCG) in Motta di Livenza (TREVISO).
 OTHER QUALIFICATIONS
Col. Luca VITALI holds many awards among which NATO medals for Operations in Relation to Kosovo, to the Former Yugoslavia, for the Joint Guardian operation in Kosovo; the diploma "Honor Graduate of the Artillery Captains Career Course", the Certificate of Appointment Honorary Citizen of El Paso, USA State of Texas; commemorative cross for the mission in Kosovo; the Italian Ministry of Defence commemorative cross for the safeguard of institutions and the maintenance of law and order; Long-service Silver Cross (16 years); the Slovenian Ministry of Defence Medal for multinational Cooperation of II grade and the Long-service Medal (10 years).